Times are Changing.
Posted on
I had always thought that I would be taken off the shoot at Bunwell in a wooden box, I never thought that I would leave or that I would ever want to but times change and about 4 years ago it became evident that my days were numbered here. A change of management on the farm had occurred and it was not long before the writing was on the wall as it were. I must say that I had some bad times when I could not see how things would pan out for the future. This is of course what has happened to many keepers in the past and will continue in the future, and while some seem to move on a regular basis, there are others who are happy where they are but through actions of others have no choice other than to rethink.
For those who are employed it is difficult and it is all too easy to become very disillusioned and to wonder where, at this time next year, will they and their families be, what they will be doing and where they will be doing it. For others like me who run and keeper the shoot it is not only the end of the job but the end of the business that in my case I had run for 25 years. So many memories, so much work and then it dawns on you that it's over. I had lots of thoughts going through my head but at 48 was I ready to start again? After all, if it takes as long to get the next place a good name, I will be 73 by the time I get there. When the cracks first appeared, I decided to split the company into a Ltd deer stalking business and the shoot as a separate entity, and this proved the right thing to do, as I knew that I now had something that was ours, my wife and I were Directors of our own company that had no connection with the shoot and as such we could scale the shoot down and increase the stalking side until the shoot died a natural death and at most would be run for a bit of fun rather than as a business. The problem was that when I got closer to the end of the shoots time, the more I realised just how much I wanted it back.
The idea of not picking up eggs in April and not hatching chicks in May and not putting birds to wood in July seemed totally alien to me and suddenly I found myself confronted with life changing decisions to make, decisions that would, to a great degree, change a my families future. My wife was willing to move as she was totally in support of a complete change, but regardless there was some trepidation. My daughters on the other hand were a different story. The eldest, 19 has a steady boyfriend and her younger sister who's 14 has all her friends at school and her education to consider. So it was not that easy and there was a great deal to talk through. I wanted to move back to my home county of Suffolk and being able to run a driven Pheasant shoot and to be in a position where I could develop a top class partridge shoot from scratch was a dream to me, and that's exactly what happened.
Partridges almost ready for this coming season.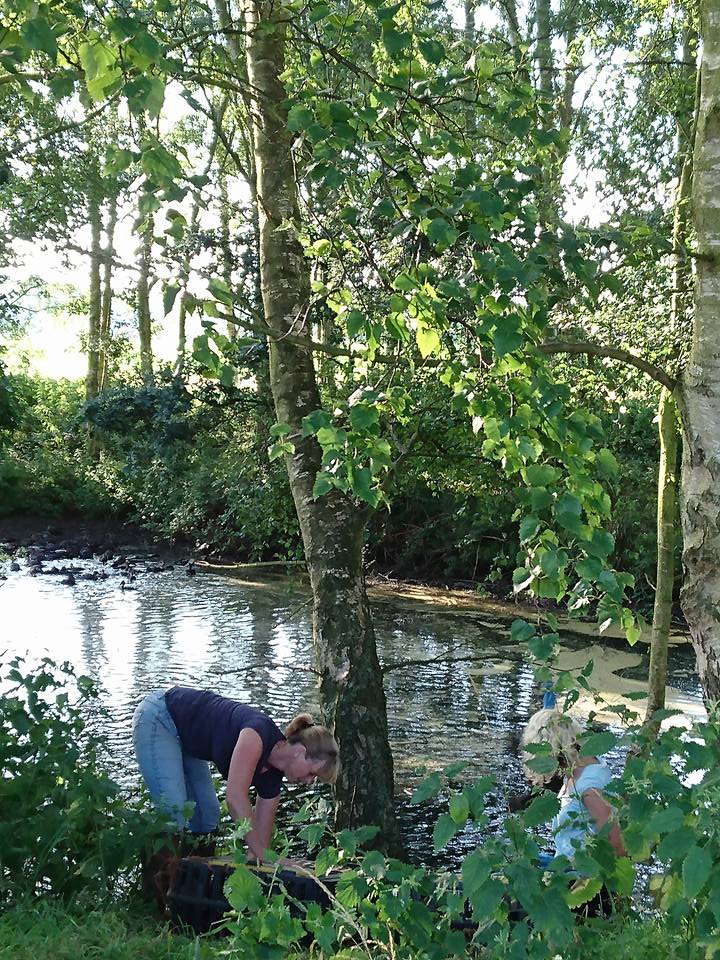 Mallard being put out on the river and ponds.
I had looked at another estate a couple of years ago, and the estate agents had said they would keep me on their books, I had forgotten their promise to keep me informed of other shoots, so it came as a total shock when on our second partridge day that, season I came in at lunch time to find an envelope from the agents laying on the kitchen table. The estate being offered was, as far as I could see, as good as it gets. This was the type of shoot that I had only dreamt of running. It was back in my home county of Suffolk, 4 miles from where I was born and where my family still live. My first reaction was to laugh and say that I hadn't a hope of getting it, that I didn't want it, that it was too good for me and promptly threw the prospectus on the table. Where upon my under-keeper, to whom I will be eternally thankful, called me everything under the sun. He then found a good friend of mine who continued the abuse for the next 2 hours and again used a great deal of colourful language that at many points over the afternoon questioned the marital status of my parents!
The turning point was the chance comment from one of my guns who asked me what exactly was wrong with the atmosphere of the day, to which I simply replied, "Look if I want to take another shoot would you…" and he cut me off saying, "I like what I'm hearing , hang on I need to get Phillip". I had a chance to take on and run a Rolls Royce of a shoot in Suffolk near my home of Saxmundham, and I have the ground, facilities and support from my under keeper and my wife and family to do just that.
That's basically how it started, and how, after 25 years were taking on another shoot, a dream shoot, a dream chance. I for one don't know quite how I felt or was supposed to feel. Excited, nervous or on a high are feelings that I got daily, but I couldn't wait to get started and nor could my family, my team or my guns who had offered so much support. There was such a lot to consider and such a lot of work to do but we did it and managed to get a successful first season under our belts.
I suppose what I am saying is this, I have had to think "outside of the box". An awful saying I will grant you, but I can't think of a better description. There was something outside of the Bunwell shoot and its better.
We have now learnt a great deal about the shoot in Suffolk. It is a wonderful shoot with so much potential, and now in our second year here, we feel very confident about the new season that is fast approaching. We still have a few places on driven days in Suffolk, and hope that guns will book, and enjoy themselves so that we can form a new Glemham Hall Syndicate of dedicated guns who what to go ahead for the future on a class shoot that has everything going for it.
I now firmly believe that when one door closes another one opens, so perhaps that was the start rather than the end. I hope to keep you up to date with the new shoot, and thank you to all those who have helped and supported my family and I through those difficult few months.
Mark Howard , Head keeper, shoot manager.